Calendários de Disponibilidade
Availability Calendars 
 Por favor clique nos seguintes "links" para ver o Calendário relativo a cada tipo de unidade:
 Please click on the folowing links to see the Calendar of each kind of unity: 
Apartamentos T3    /   Three Bedroom Apartments
Apartamentos T2    /      Two Bedroom Apartments
Apartamentos T1    /       One Bedroom Apartments
Apartamentos T0-Estudios    /    Studio Apartments
Quartos Duplos & Simples / Double & Single Rooms
  Esta informação é imediatamente actualizada sempre que há uma alteração
 This information is always up to date in sequence of any change
---
Calendário de Disponibilidade
TOTAL
(Total relativo a todos os tipos de unidades)
Availability Calendar
TOTAL
(Total concerning all kinds of unities)
(PT) Este calendário reflecte a disponibilidade total relativamente a todas a unidades de todos os tipos.
Uma data assinalada em branco corresponde à última ou à noite disponível, sendo a saída no dia seguinte de manhã, já assinalada a vermelho.
Por exemplo um dia 10 qualquer assinalado a branco e dia 11 a vermelho significa que a disponibilidade incluí a noite de 10 com a saída no dia 11 de manhã.
(ENG) This calendar shows the total availability of all unities of any kind.
A date marked in white corresponds to last night available, being the check-out on the following morning.  
For instance, any 10th marked to white and 11th to red means that the availability is including the 10th night with check-out on the 11th in the morning.
(ESP) Ese calendario reflecte la disponibilidad total relativo a todas las unidades de todos los tipos.
Una fecha marcada en blanco corresponde a la última noche disponible, siendo la salida en la mañana siguiente.      
Por ejemplo, cualquier día 10 marcado a blanco y 11 a rojo, significa que la disponibilidad incluye la noche del día 10 y salida el día 11 por la mañana.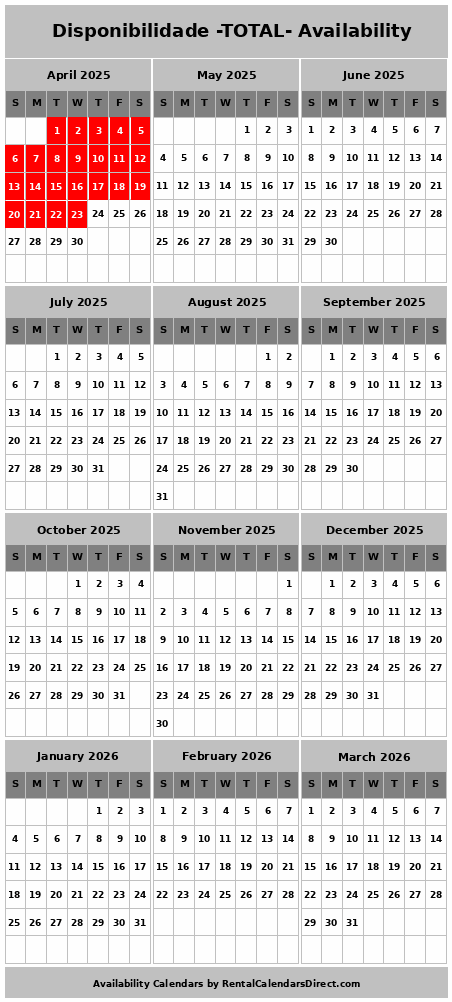 ---
Lagos  Algarve  Portugal