Calendário de Disponibilidade
Availability Calendar 
 QUARTOS  /  ROOMS  /  HABITACIONES  /  ZIMMER
CHAMBRES  /  CAMERA  /  KAMER  /  RUM
Actualizado Diariamente  /  Daily Updated
(PT) Este calendário reflecte a disponibilidade total relativamente a todas a unidades deste mesmo tipo.
Uma data assinalada em branco corresponde à última ou à noite disponível, sendo a saída no dia seguinte de manhã, já assinalada a vermelho.
Por exemplo um dia 10 qualquer assinalado a branco e dia 11 a vermelho significa que a disponibilidade incluí a noite de 10 com a saída no dia 11 de manhã.
(ENG) This calendar shows the total availability of all unities of this kind.
A date marked in white corresponds to last night available, being the check-out on the following morning.  
For instance, any 10th marked to white and 11th to red means that the availability is including the 10th night with check-out on the 11th in the morning.
(ESP) Ese calendario reflecte la disponibilidad total relativo a todas las unidades diste mismo tipo.
Una fecha marcada en blanco corresponde a la última noche disponible, siendo la salida en la mañana siguiente.      
Por ejemplo, cualquier día 10 marcado a blanco y 11 a rojo, significa que la disponibilidad incluye la noche del día 10 y salida el día 11 por la mañana.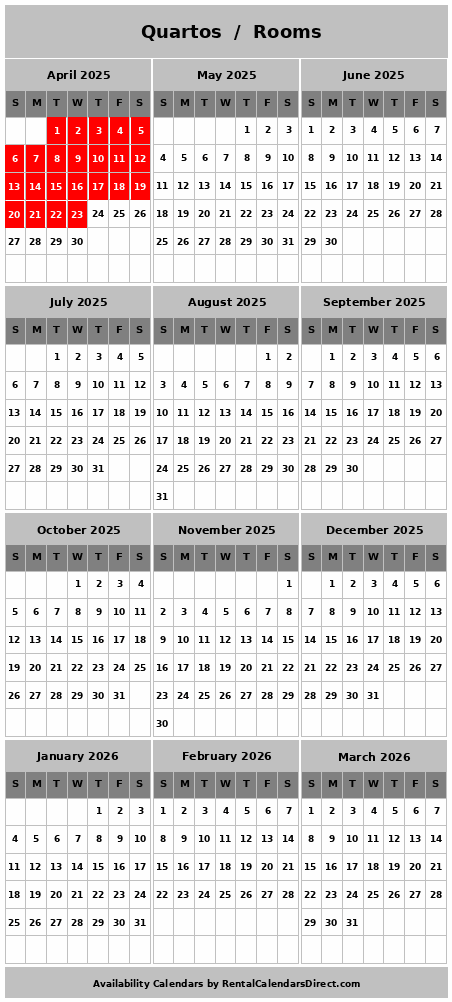 IMPORTANTE / IMPORTANT NOTICE / INFORMACIÓN IMPORTANTE
(PT) Eventualmente um determinado período pretendido poderá já não estar disponível na sua totalidade para este tipo de unidade, no entanto todas essas noites pretendidas poderão ser possíveis, caso seja admissível mudança de unidade durante a estadia e desde que haja disponibilidade compatível / complementar de um outro tipo de unidade. Então por favor, verifique também os outros calendários e complementaridade de datas.
(ENG) One determined period eventually intended could already not be available in its totality for this type of unit, however all those intended nights could be possible with the complement of other unity type, case is admissible the change of unit during the stay and compatible availability of dates. So please check also the other calendars witch maybe has complementary availability.
(ES) Eventualmente un determinado periodo pretendido podará no estar disponible en la totalidad para ese tipo de unidad, todavía todas esas noches podaron ser posibles, se es admisible cambio de unidad durante la estadía y se lo ay disponibilidad de otra unidad todavía de otro tipo. Entonces por favor verifique también los otros calendarios y complementariedad de fechas.
---